Hotel Esans is a traditional, family-run hotel in Sultanahmet, Istanbul old city.It is ideally located at the foot of Topkapi Palace,just a few minutes walk from many major attractions and the restaurant and shopping precinct.With breathtaking views of the Bosphorus Sea and Princes' Islands from its 4th storey terrace, this 19th Century Ottoman mansion, previously occupied by an old master perfumer,has recently been renovated.Esans, meaning "Essence", is a boutique hotel, with total 8 , traditionally decorated rooms and a 24 hour reception desk serviced by helpful and enthusiastic staff.Continue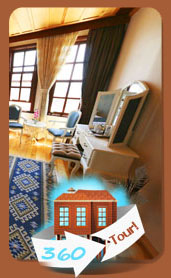 Why Esans in sultanahmet istanbul old city hotels?
·Free Phone Call to US, Canada and Most EU Countries from Hotel Lobby.

·Licensed as Special Class Hotel and Controlled by Tourism Ministry of Turkish Republic.(ID:13540)

·Managed by Family Who Owns the Building.So Very Well Maintained Equipments and Rooms.

·Truly Excellent Location, Spotless Rooms, High Comfort…Continue

Events and News from Old City
· Fish season is making Istanbul happy. Fish boats are coming with plenty of fishes.In Istanbul old city, you can watch fish boats returning back from a fruitfull hunts.And then you can enjoy fish and bread in Eminönü Istanbul Old City.Continue...
· Istanbul welcomes International Independent Film Festival again between 13-23 Feb 2014.Continue...
· Istanbul is getting prepared for Tulip Festival Again.Spring in Istanbul will be unforgettable again with colorful citymarks.Continue...